WELCOME BACK INSIDE!
We will be doing things differently than we did before and procedures will change as we worship indoors. The situation, recommendations and health orders change rapidly, so there will be changes to some of what you read here at times. We will do our best to inform you of any changes as necessary.
When are we meeting?
We are resuming indoor worship services on Sunday, January 10, 2021 at 10 AM.
Where are we meeting?
GCC will meet in our church auditorium at:
3920 S. Baldwin Rd. Orion, MI 48359.
CLICK HERE for a map.
What will the gathering look like?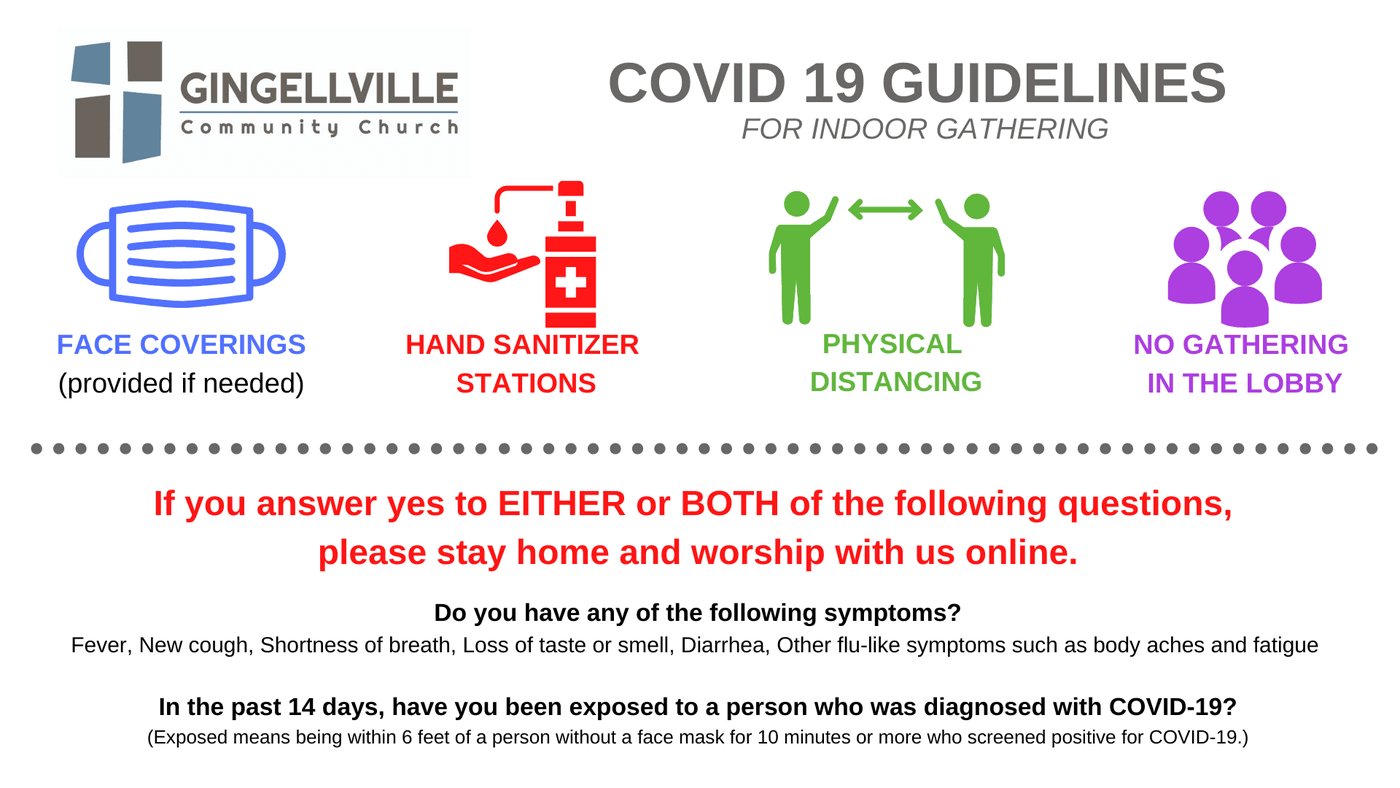 We will take precautions according to guidance from the Centers for Disease Control, Oakland County Health Department and the State of Michigan.
The service will be about an hour.
We will be following physical distancing guidelines. We ask that everyone maintains a 6 ft distance from one another.
We are SO EXCITED to see all of you…and we know that we love to hug one another and shake hands. We miss that, too. However, we are asking that we refrain from physical contact with people outside of your family at this time.
Please, have conversations and give air hugs! Love on each other from 6 feet apart!
Remember, everyone is at different levels of comfort with the idea of physical distancing or not.
As we are meeting inside, masks will be REQUIRED AT ALL TIMES for those aged 5 and older in order to limit any possible spread of COVID-19. Unless on stage, all staff and volunteers will also wear masks at all times.
We will have hand sanitizer stations and masks available for those that did not bring one.
As you arrive to GCC, please make your way DIRECTLY to the auditorium and find your seat. To allow for consistent social distancing during worship services:
Please do not congregate or have conversations in the lobby or in the stairwell. We want people to be able to have conversations and speak with each other, so please welcome one another before you enter the building.
Rows of chairs in the auditorium will be spaced 6 FEET apart from one another.
Households will be seated together in chairs. Please leave three chairs between your family and another family sitting in the same row.
Should you have any questions, please ask a volunteer.
GCC Kids will be meeting in the children's ministry wing. This ministry is for K-5 grades. There will be no nursery or pre-school children's ministry at this time. Please sign in your child at the GCC Kids Wing entrance and pick up your child immediately following the service.
As you check your child in, please observe physical distancing as you stand in line (6 ft. distance).
We will not pass offering plates. We encourage you to continue giving online at gcc4him.org/give. There will be a box where offerings may be given in person.
We will not serve coffee, but you are more than welcome to bring your own!
Restroom facilities WILL be available. Our bathrooms are not very large, so please remain as socially distant as possible as you use the restroom facilities. Only the UPSTAIRS bathrooms will be available for public use.
The bottom floor of the building is CLOSED to the public.
We ask that attendees health self-screen before the service:
Do you have any of the following symptoms?
Fever
New cough
Shortness of breath
Loss of taste or smell
Diarrhea
Other flu-like symptoms such as body aches and fatigue
In the past 14 days, have you been exposed to a person who was diagnosed with COVID-19? (Exposed means being within 6 feet of a person without a face mask for 10 minutes or more who screened positive for COVID-19.)
If you answer yes to EITHER or BOTH questions, we ask that you stay home and worship with us online.
Vulnerable populations are asked to stay home and worship with us online. (CLICK HERE for a definition of vulnerable populations from the CDC.)
We will take attendance. This allows us to contact attendees in the event that we learn of a COVID-19 case from someone else who attended the same day.
If you are a guest with us today, we are SO GLAD you are attending! We will ask for contact information for you as we are doing our best to keep everyone safe and healthy during this time. ALL information asked for in this way will ONLY be used to contact you if there is a COVID exposure event.
If you would like to have more information about GCC, please text WELCOME to 248-780-7004 and fill out the form there to connect with us!
What if someone in attendance is diagnosed with COVID-19?
If you have attended a service at GCC and are diagnosed with COVID-19, we ask that you inform the church of your diagnosis. This information will be held in STRICT CONFIDENCE.
Contact Pastor Josh by call or text at 248-780-7004. Pastor Josh's extension is 101. You can also email him at pastorjosh@gcc4him.org.
We will inform the Oakland County Health Department that someone in attendance at a service date has been diagnosed with COVID-19.
We will inform those that have been exposed to COVID-19 as directed by the Oakland County Health Department.
We will take action as recommended by the Oakland County Health Department and medical professionals at the time of possible exposure.
What if I don't feel comfortable gathering at this time?
That is OKAY! We understand that there are differing levels of comfort with re-gathering. We welcome you to join us on Sunday indoors or online! We are doing our best to make our online experience almost like being here!
GCC, we are excited to be back together. We want to make sure that the actions & steps we are taking are done seeking to be wise and demonstrate care and we thank you for your patience and understanding during this time. If you have any questions, please feel free to ask. (Text or call 248-780-7004 or email pastorjosh@gcc4him.org.)
We love you and cannot wait to see you! (And for those who are not yet comfortable or ready to meet in-person, we hope to continue to be together online!)